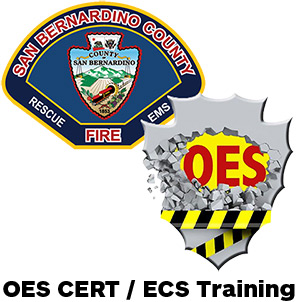 OES Training Registration available on Eventbrite.
Sign up early for classes that you are interested in. The following are strongly recommended:
First Aid, CPR and AED

This is the AHA Heartsaver program and is the official County Fire standard. Remember, our goal is to have everyone complete this by March 31, 2020.

HAZMAT First Responder Awareness

Remember, this training is good for a year.
The initial class is 8 hours then after that, you only have to take the "competency" class within the next 12 months.

ICS-200 Classroom Course

This one is especially for those who will be serving as Logistics, Operations, Planning or CERT IC.
This will give you a true in depth exposure and understanding of operating in an ICS environment

Red Cross Shelter Operations Training

The January class packed out fast so don't delay in signing up if you want to take this. There are 40 slots in the class.

Radio Operations – Awareness Level Training

If you haven't taken this before, I highly encourage it. No matter what your experience is, this will help you gain confidence in communications and also help to standardize techniques throughout the program.
Please note that the "Operations Level" course is restricted to ECS personnel only at this time.
Click here for the full "OES" calendar of trainings for CERT and ECS.
John Ferdon is working on a separate calendar that lists trainings that individual teams are doing as those events get reported to me. He's still adding classes after April to Eventbrite so "stay tuned" and those should be up before long.
---
I want to personally thank each and every one of you for your time and dedication to this program and to your community. You've done great things so far and I look forward to continuing that with you as we go forward into 2019. As always, my "door" is open if you have questions or concerns.
All the best,
John M. Ferdon |Emergency Services Officer
San Bernardino County Fire | Office of Emergency Services
1743 Miro Way | Rialto, CA 92376
Office: 909.356.3936 | Fax: 909.356.3965