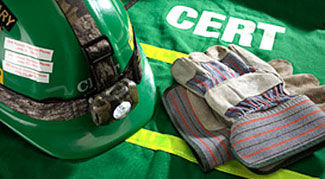 CERT (Community Emergency Response Team) is a national organization dedicated to aiding emergency services personnel during situations such as natural disasters wherein the fire and police crews are overwhelmed. Each community has a different CERT team. BBV-CERT (Big Bear Valley Community Emergency Response Team) is the CERT team serving the Big Bear Valley.
As we all know, Big Bear Valley has suffered several disasters in past years, including fires, floods, windstorms, earthquakes and evacuations. First responders in our valley, fire fighters, police, and emergency workers are well prepared to handle emergencies. But, during a disaster, too many serious incidents can overwhelm emergency services.
BBV-CERT volunteers can provide additional help and support to the fire and police when activated by the approved governing authority. The Community Emergency Response Team (CERT) trains citizen volunteers to protect themselves, their families and their neighbors. It is a great help to emergency personnel. You can get this training and be better prepared to help you and your family.
Big Bear Valley CERT (BBV-CERT) trainees take a 20-hour course provided by Big Bear Valley Fire agencies. Disaster related preparedness skills and techniques are taught. Once sworn in as a certified disaster service worker, the CERT volunteer can receive more training by attending voluntary monthly meetings and secondary pre-authorized training events. BBV-CERT also participates in community events and activities throughout the year. There are more than 100 mountain residents who are BBV-CERT members.
CERT in Action
If you are interested in becoming a member of BBV-CERT, visit the "Join BBV-CERT" page for more information.